Become a Member
Your advantages as a member in the RSV
Is membership in the RSV worth it? We say (of course): Yes!
We convey your messages - to network operators and clients
Through regular newsletters and information for network operators and commercial clients, we ensure a continuous transfer of information and knowledge on the topic of pipeline rehabilitation. We address current messages that concern you as a company and bring them directly "to the man". The "RSV-News" is sent to different target groups about once a month - our distribution list contains several hundred addresses of decision-makers from the water and wastewater sector. In addition to general messages, there is also the chance to attract direct attention with news from the member companies.
You get your company more attention
Via the Company Search (only available in German yet) you and your range of services will be found and noticed by potential clients. It is the most frequently visited subpage of our website. We recommend member companies to potential clients who send enquiries to our office. This is an important added value for your sales and marketing activities.
You move the industry forward
As a member, you have the opportunity to help shape the further development of the industry in working groups. Through active political information and public relations work, we represent trenchless technologies and their importance for the infrastructure. Through your membership you make an important contribution to this. You set the course for the future - predicate: priceless.
You get exclusive access to networking and training
In regular member mailings, we inform you and your employees exclusively about association and industry events. You will be invited to free networking events where you will benefit from the exchange of know-how and expert knowledge. We regularly offer the opportunity to present yourself as an entrepreneur to representatives of clients (e.g. with "News from the company" in our network operator newsletter). Since most events take place online, you save yourself long journeys to further training and networking events.
In four steps to RSV membership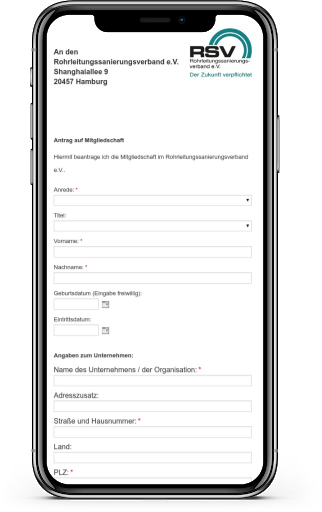 How to apply for RSV membership for your company:
Fill out the digital application form on your computer and print it out
You will receive an email with all the information and the PDF attached
Review the information and sign the form
Scan or photograph the form and send it back to the email address
(You will be redirected to our association software)
Statutes of the RSV (English version)
Contributions (English version)
Any further questions? Contact us!
How can we get involved as a member? What are further benefits of a membership for us? What are the special requirements? Please contact the office - we will answer your questions.